Katy was born in Guildford, daughter of writer J L Manning OBE. Trained as a dancer, she then attended the Webber Douglas School of Dramatic Arts. Her television career began with the groundbreaking John Braine series Man at the Top. During this, Katy was offered the role of Josephine Grant in Doctor Who with the unforgettable Jon Pertwee. Douglas Camfield (director) cast Katy in Armchair Theatre and Target with Patrick Mower (very different roles from the innocent Miss Grant!). She also hosted her own arts and crafts programme, Serendipity.
Katy's career has spanned over 40 years and three countries. In the 19905, Katy wrote and performed Not a Well Woman while living in New York and LA. Theatre work includes: London's West End: two years in Why Not Stay for Breakfast? with the inimitable Derek Nimmo, There's a Girl in My Soup; joining the Young Vic she performed in Hamlet, The Real Inspector Hound and Rosencrantz and Guildenstern Are Dead; then back in the West End for So Who Needs Men? (Geoff Rawles), Odd Man In (Colin Baker and Lionel Blair), Doctor in the House (Jimmy Edwards) and Runfor Your Wye (Eric Sykes, David McCallum and Bernard Cribbins). At the Opera House, Sydney: Elvira in Blithe Spirit, Educating Rita, The Odd Couple (Tony Randall and Jack Klugman), Otherwise Engaged with Martin Shaw and See How They Run with Andrew Sachs.
Katy has voiced numerous cartoons and won several awards, including Best Supporting Actress at the Melbourne Film Festival and several European awards as the voice of the 10-year-old Gloria in the animated cartoon Gloria's House. She has directed Banjo Patterson, Shirley Valentine and two Australian musicals. While on UKTV (Australia), she hosted her own interview show with guests including: Lenny Henry, Simon Pegg, Robson Green, Cleo Laine and Mr Basil Brush himself!
Back in the UK, Katy has recently completed four new Iris Wildthyme (Time Traveller and Rathag) CDs, and there are also some surprises ahead for Doctor Who fans as Katy recreates Jo Grant for The Companion Chronicles.
Katy has also performed her one-woman show, a true story of Bette Davis, Me and Jezebel, directed by partner Barry Crocker (yes, Bazza McKenzie himself!) across Australia. In April 2009, Katy brought the show to the New End Theatre in Hampstead, London, to great critical acclaim, followed by another very successful season at the Edinburgh Festival.
Earlier this year, Katy shot a short film with Derek Fowlds. BBC Books have released her reading of The Three Doctors and we look forward to Iris Wildthyme meeting Jo Grant in yet another adventure! Katy has returned recently as Jo Grant some 40 years on, in the new The Sarah June Adventures, alongside the lovely Elisabeth Sladen, with a guest appearance by the supremely talented Matt Smith in his new incarnation as the Doctor, written by the incredible Russell T Davies.
Veering from one extreme to the other in her own inimitable fashion, with tail-wagging excitement, Katy is about to voice a nine-month old puppy in a new feature-length animation, playing the title role of Oakie. She also recently appeared on Celebrity Eggheads.
Not a Well Woman, written and performed by Katy Manning, has now been released complete with 26 different characters.
Katy has now returned to live in her beloved England, which will mean spending some 'time travelling back and forth to Australia to keep both Barry and Archie (the dog) in order! Katy's twins, Georgie and J J, live in Australia and London, and Archie is currently holidaying in the Blue Mountains near Sydney.
2011, Stage, Blodwyn Morgan, Death by Fatal Murder, Ian Dickens Prods (International Ltd), Ian Dickens
2009, Stage, Bette Davis/Various Roles, Me & Jezebel, Hampstead New End Theatre/Edinburgh Fest, Barry Crocker
1998, Stage, Pansy Maud/Various Roles, Not A Well Woman, L & M Productions/Tavern On The Green, Katy Manning/Liza Minelli
1996, Stage, Elvira, Blythe Spirit, Sydney Opera House, Peter Williams
1987, Stage, Rita - 1986 & 1987, Educating Rita, Sydney Opera House, Peter Williams
1979, Stage, Ophelia, Hamlet/Real Inspector Hound/Rosencrantz & Guildenstern..., Young Vic Theatre, Jeremy James Taylor
1976, Stage, Louise - 1974-1976, Why Not Stay For Breakfast, Ray Cooney/Apollo Theatre, Jan Butlin/Ray Cooney
Stage, Dotty, Noises Off, Twelfth Night, Peter Williams
Stage, Davina, Otherwise Engaged, Regal Theatre, Perth, Martin Shaw
Stage, Mary, Run For Your Wife, Ray Cooney/Criterion Theatre, Ray Cooney

2011, Film, Susan Payne, The Haunting of Harry Payne
2007, Film, Miss Haversham, Dark Will Fall, Independent, Rowan Spong
1990, Film, Mother, Frog Dreaming, Australian Film Board

2011, Television, Annie, Three Score . . . And Then?
2010, Television, Jo Jones, The Sarah Jane Adventures, BBC Wales & DW Prods Ltd
2008, Television, Presenter/Interviewer - 2001-2008, Preview with Katy Manning, UKTV Australia, Phylisse Stanton
1977, Television, Joanne, Target, BBC Television, Douglas Camfield
1973, Television, Jo Grant - 1970-1973, Doctor Who, BBC Television, Various Directors
1969, Television, Joanna, Man At The Top, Thames Television, William Baines/Various Directors

2010, Audio, Miss Bourne, The Ghost Train, Fantom Audio, Dexter O'Neill
2010, Audio, Jo Grant/Various, The Three Doctors, BBC Audio Books, Michael Stevens
2008, Audio, Jo Grant/Various Roles, The Green Death, BBC Audio Books, David Roper/Michael Stevens

2007, Voice Over, Gloria/Various Roles, Gloria's House
2005, Voice Over, Cosmo Mouse/Various Roles, The Easter Bunny
Voice Overs for Commercials including: Sony Playstation, Toyota, Vodaphone and "Lamb Off the Bone" for the Australian Meat Marketing Board.
BIG FINISH AUDIO CREDITS
Companion Chronicles
3.03 The Doll of Death (Sept 2008)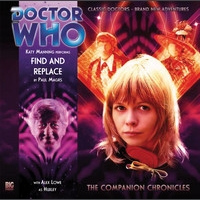 5.03 Find and Replace (Sept 2010)
6.01 Tales from the Vault (July 2011)
6.04 The Many Deaths of Jo Grant (Oct 2011)
7.09 The Scorchies (Mar 2013)
Doctor Who: The Lost Stories
4.04 The Mega (Dec 2013)
Iris Wildthyme
51. The Wormery (Nov 2003)
1.0 Excelis Dawns (Feb 2002)
3.0 The Plague of Excelis (Feb 2002)
1.1 Wildthyme at Large (Nov 2005)
1.2 The Devil in Iris Wildthyme (Oct 2005)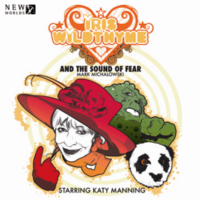 2.1 The Sound of Fear (Feb 2009)
2.2 Land of Wonder (March 2009)
2.3 The Two Irises (Apr 2009)
2.4 The Panda Invasion (May 2009)
Iris Wildthyme and The Claws of Santa (Nov 2009)
3.0 Series 3 Boxset (Aug 2012)
Drama Showcase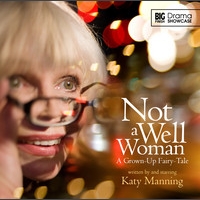 1.1 Not a Well Woman (March 2011)
Bernice Summerfield
Many Happy Returns (Nov 2012)
Gallifrey
Gallifrey IV (March 2011)
The Confessions of Dorian Grey
1.3 The Twittering of Sparows (Nov 2012)
www.bigfinish.com